Off the Cuff
Thank you for 6,500 Downloads!
---
Whoa. This is so much more than I expected. When it was getting close to 5,000, I wanted to toss up some of the audio files as a thank-you. In the beginning stages of the game, it was going to be voiced, with Exit narrating and reading both her and Markus' lines aloud. But since I was the only person working on the project, that meant I had to read a lot of stuff I wasn't really ready for. Or at least, not ready to post online, haha. Writing smut is one thing, but reading/acting it out, and having it online attached to your real name is not exactly a step that I felt super comfortable with. But I did read aloud/act and record most of it, and I'm hoping to share a little in the future. This summer has been wild, so I haven't gotten a chance to cut them up and get them polished. I always enjoy voicing that smug gremlin.

But since we've gone well past 6k, I wanted to get something up to show my gratitude! So I've got a sketchpage, because I do need a lot of practice drawing the sexy stuff! Having Exit strapped to the chair was an important aspect of gameplay, but it really limited the poses I could put her in. And I'm not exactly happy with the way the CGs of the PIV sex scene turned out.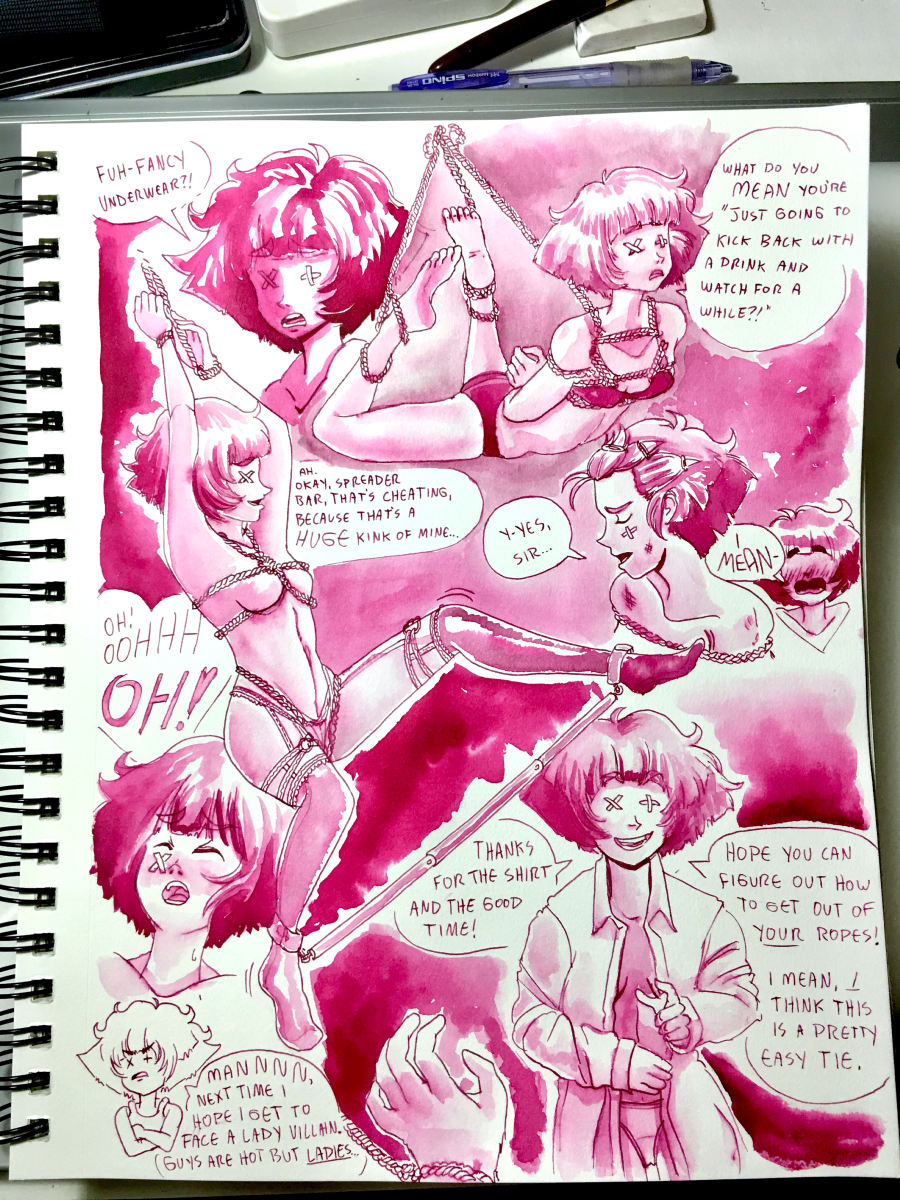 I don't have hard plans for my next game, but I've started making notes. The biggest complaint I got was that it wasn't long enough. And though I'd love to fix that, I also...don't really have time to make more than a short game at a time. It was pretty cute seeing people go "It's okay, but not as good as [PROFESSIONAL GAME]. I want more plot." That's bizarrely high praise for something I made in my off time over a couple weeks. And, uh, I tried to cut the plot down as much as possible, and keep it all kink-relevant. Believe me, I have well over 100k words in my google docs of stuff with Exit. I could write more if people really want more plot and character development with their kink. So let me know if that's your jam.